Hey Everyone!
Welcome to another FFBC event featuring The Half Life of Molly Pierce
by Katrina Leno!
Read down below to get to know this author and her debut book!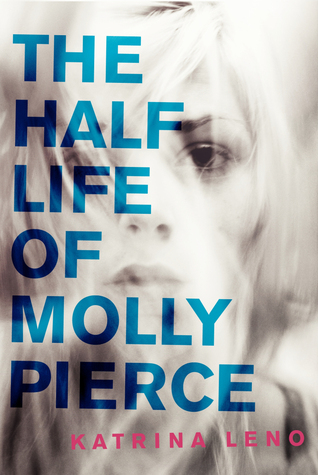 The Half Life of Molly Pierce
by
Katrina Leno

Synopsis:
You take it for granted. Waking up. Going to school, talking to your friends. Watching a show on television or reading a book or going out to lunch.
You take for granted going to sleep at night, getting up the next day, and remembering everything that happened to you before you closed your eyes.
You live and you remember.
Me, I live and I forget.
But now—now I am remembering.
For all of her seventeen years, Molly feels like she's missed bits and pieces of her life. Now, she's figuring out why. Now, she's remembering her own secrets. And in doing so, Molly uncovers the separate life she seems to have led…and the love that she can't let go.
The Half Life of Molly Pierce is a suspenseful, evocative psychological mystery about uncovering the secrets of our pasts, facing the unknowns of our futures, and accepting our whole selves.


"A smart, seductive page turner, deeply felt and full of surprises." (Madeleine George, author of The Difference Between You and Me)
"Unfolds its careful origami slowly and hypnotically, taking on one shape after another before finally revealing itself as something stranger and more beautiful than I'd anticipated. A moving, expertly wrought story that will keep surprising you past the last page." (Bennet Madison, author of September Girls)
"A Tilt-A-Whirl of a first novel, a breathtaking thrill ride that takes you in one direction and then spins you off in another, over and over, keeping you guessing with every turn of the page." (Michael Thomas Ford, author of Suicide Notes)
"With a distinct and mysterious voice that matches its mood, The Half Life of Molly Pierce will pull you into Molly's—and Mabel's—world." (April Henry, New York Times bestselling author of Girl, Stolen)
Well I had to do a lot of research into Molly's particular mental illness (no spoilers here!), and that was really interesting but also sad—because we don't know a lot about it. Some doctors even debate its very existence because there aren't a lot of documented cases. This was good, in a way, because it gave me a lot more freedom in my writing. I could kind of create my own version of the illness because I had so little firsthand accounts to guide me. AND each account I read was SO different, it gave me the creative license to be different, too.
Ohh!! Right now I am crushing SO hard on Chloë Grace Moretz. I think she's a spectacular actress and would fangirl all over the place if she played Molly. She's not even particularly what I had in mind when I wrote Molly (I rarely think of looks, to be honest. I think it's the least interesting part of writing a character) but I think she would step into the role brilliantly. Or Ellen Page! She's amazing. Either one of them! I think Logan Lerman would make a fantastic Lyle. Saoirse Ronan would make a perfect Erie. I don't know about Sayer! He's a bit of a mystery to me. Elle Fanning would be a fairly spot-on Hazel. This is fun!
Look What Happened to Mabel, from Mack & Mabel. It's really nerdy, but I wrote the whole book listening to the 1974 soundtrack of this musical.
Giveaway is open to US Only | Must be 13 or older to enter
Win A Half Life of Molly Pierce T-shirt (Us Only)