17 First Kisses
by
Rachael Allen
Publisher: HarperTeen
Release Date: June 17th 2014
Synopsis:
No matter how many boys Claire kisses, she can't seem to find a decent boyfriend. Someone who wouldn't rather date her gorgeous best friend, Megan. Someone who won't freak out when he learns about the tragedy her family still hasn't recovered from. Someone whose kisses can carry her away from her backwoods town for one fleeting moment.
Until Claire meets Luke.
But Megan is falling for Luke, too, and if there's one thing Claire knows for sure, it's that Megan's pretty much irresistible.
With true love and best friendship on the line, Claire suddenly has everything to lose. And what she learns—about her crush, her friends, and most of all herself—makes the choices even harder.
In her moving debut, Rachael Allen brilliantly captures the complexities of friendship, the struggles of self-discovery, and the difficulties of trying to find love in high school. Fans of Sarah Ockler, Susane Colasanti, and Stephanie Perkins will fall head over heels for this addictive, heartfelt, and often hilarious modern love story.

Favorite Book?
Wuthering Heights by Emily Bronte and also the entire Harry Potter series

Favorite TV show?
Tie. Game of Thrones and Pretty Little Liars

Favorite movie?

Your Favorite Song?
Friday I'm In Love by The Cure

Favorite Food?

Who is your perfect fictional boyfriend?
Cricket Bell from LOLA AND THE BOY NEXT DOOR. I love adorable nerdy boys.
Favorite Quote?
"

I have lived a thousand lives and I've loved a thousand loves. I've walked on distant worlds and seen the end of time. Because I read."
George R. R. Martin

What do you find yourself "Fangirling" over?
Well, PLL and Game of Thrones, of course. But mostly, authors. Authors are like my rock stars. Most recently I got to fangirl all over Ann M. Martin at the ALA annual conference in Las Vegas. She signed a few of my childhood Babysitters Club books and it was epic


If you could meet one author, dead or alive, who would it be?
The sheer possibility and excitement just made my brain melt. I don't think I can answer this question without, like, 10 hours and a complicated spreadsheet.

Something to say to our Book Addicts?
Thank you so much for being the people that read and love and talk about books! I hope you enjoy 17 FIRST KISSES, and if you ever want to reach out and tell me about an awesome book you just read, I would love that!
Hello Rachael! We are super excited to host you in our FFBC.
Thanks! I'm super excited to be here!
Could you tell our Book Addicts a little bit about 17 First Kisses?
Sure!
Here's a short blurb:
A
seventeen-year-old girl and her best friend both fall for the new boy in town - told in chapters that alternate between senior year and each of the main character's 17 kisses.
The title may make it sound like a romance, but the most important relationship in the book is the one between Claire and her best friend Megan. It's a story about friends figuring things out without hating each other, a family trying to piece itself back together after a crippling loss, and the feeling that there are bigger dreams waiting for you outside your small town. Oh, and kissing. Lots and lots of kissing.
What was the craziest thing you researched for the book?
Whether or not it is actually possible to buy crabs online. I heard a friend of my husband's joking about it, so I had to investigate. And…yeah. Revenge crabs. It's a thing, people. (But not a thing you should ever, EVER think about doing, even if you read about it in a book and it sounds funny.)
If you could describe Claire in 5 words, what would they be?
Strong. Boy-crazy. Caring. Judgmental. Hopeful.
Is there a specific scene that you had the most fun to write?
The kissing scenes!
The kiss scenes (and the magic and wonder and angst leading up to the kisses) are always my favorite part of a book. I had so much fun writing a book with seventeen of them! 17 FIRST KISSES has firework-inducing kisses, revenge kisses, mildly traumatizing Cheetohs-flavored kisses, last-chance-to-tell-him-how-you-feel kisses, and every kind of kiss in between.
Although, it's funny – it was so much easier for me to write the funny or awful kisses than the dreamy, romantic ones (um, I don't want to think about what that says about me).
If you had to choose one song to be the theme song for 17 First Kisses what would it be?
Born to Fly
by Sara Evans. It perfectly captures that feeling of wanting to break out of a small town and chase your dreams. It captures the wanting-to-find-love feeling pretty well too.
Are there 2 actors who resemble how you see Claire and Luke in your mind?
Oh! I love this question! Here's who I would cast:
Claire – Melissa Benoist (Marley from Glee. But you'd have to add freckles and a bunch of
Megan – Dianna Agron (Quinn from Glee. Bonus: she's a Georgia native.)
Thank you so much for having me, y'all!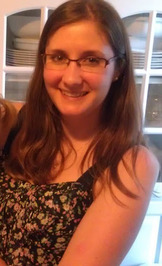 Rachael Allen lives in Atlanta, GA where she's working furiously on her PhD in neuroscience. When she's not doing science or writing YA, you can find her chasing after her toddler and her two sled dogs. Her debut YA novel 17 FIRST KISSES, is forthcoming from Harper Teen. Rachael may or may not have had 17 first kisses...luckily she doesn't kiss and tell.
Win (1) Signed Copy of 17 First Kisses + Swag, + an ARC of I Will Give You the Sun by Jandy Nelson (US Only)