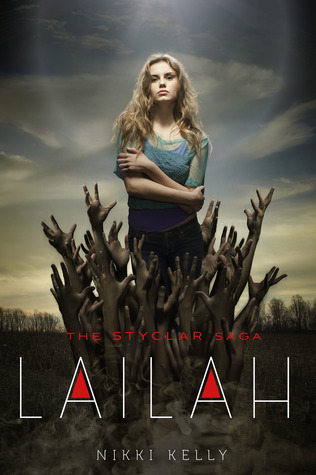 Lailah
(The Styclar Saga #1)
by
Nikki Kelly
Publisher: Feiwel and Friends
Release Date: October 7th 2014
Synopsis:
The girl knows she's different. She doesn't age. She has no family. She has visions of a past life, but no clear clues as to what she is, or where she comes from. But there is a face in her dreams – a light that breaks through the darkness. She knows his name is Gabriel.
On her way home from work, the girl encounters an injured stranger whose name is Jonah. Soon, she will understand that Jonah belongs to a generation of Vampires that serve even darker forces. Jonah and the few like him, are fighting with help from an unlikely ally – a rogue Angel, named Gabriel.
In the crossfire between good and evil, love and hate, and life and death, the girl learns her name: Lailah. But when the lines between black and white begin to blur, where in the spectrum will she find her place? And with whom?
Gabriel and Jonah both want to protect her. But Lailah will have to fight her own battle to find out who she truly is.
Right now, still jumping up and down over Leigh Bardugo's Grisha Trilogy
The Office (American version)
Braveheart
Chicken dinner (or as we call it over here Sunday Roast!)
This changes regularly… Right now, having just read Divergent, I am a little in love with Tobias… *le sigh and le swoon*
I fangirl regularly… recent fangirling episodes have included, but are not limited to:
The Darkling from the Grisha Trilogy (yes, I know, I'm a little worried about what that says about me too!)
Divergent book & movie
Tobias from Divergent
David Tennant
Matt Smith
Oh, and I recently had a fangirl moment over Henry Cavill (several actually!)
J R R Tolkien
(I think for the purposes of swooning I will use an Orlando as an Elf in The Lord Of The Rings for this gif!)
Fancy a cuppa and a natter?
Whoop!! Let's get this party started! *Boils kettle in readiness for tea celebrations*
Lailah is a YA PNR…
I could most definitely waffle on for some time about the book having an array of supernaturals – ones you might recognize, like Vampires and Angels – and then stress to you that they are a bit different from what we're used to… I could ramble on and on about the book including themes of light and dark and that it challenges preconceptions and assumptions, and that there is a *cough dirty word alert cough* love triangle but one that is crucial to Lailah's journey of uncovering her true nature…
But I might simply give you the opening quote to the book, which I think is apt for the story overall:
"You either die a hero or you live long enough to see yourself become the villain." —Harvey Dent, The Dark Knight
In my stories, I prefer to write about places I know or have at least visited myself. As the last third of the story plays out in the South of France, I flew there several times to conduct research and visit the locations I wanted to use in the book. Toward the end of the story, Lailah travels up the Pyrenees Mountains. My Aunty and Uncle, who I was staying with while I conducted research in the area, decided I should do the same, and so booked in a day's hike for us to climb the snowy mountain. As a person who does little-to-no exercise, sits for at least 10 hours a day and lives on caffeine and candy, this was a pretty daunting idea. But, I'd like to think that there's nothing I would put my MC through that I wouldn't be prepared to do myself… (Within reason of course, this is a Fantasy!) Thankfully, on the day we had planned the excursion, the weather was far too terrible to make the trip, so instead we drove halfway up and had a cup of tea in a ski resort! I'm pretty sure someone was looking out for me that day, as I would probably never have returned!
Lailah the person: Sincere, practical, stubborn, lost, conflicted!
Chapter Twenty-Two… There is a scene between Lailah and Jonah where it gets quite intense, which I thoroughly enjoyed writing!
Gabriella Wilder as Lailah
Alex Pettyfer as Gabriel
Shiloh Fernandez as Jonah
Liam Neeson as Ruadhan
Sophie Turner as Brooke
Alicia Vikander as Hanora
A shout-out here to Andrew at Endlessly Reading (And a Styclar Street Team Founder) who offered up his fan cast to help me decide!
'No Light, No Light' by Florence & The Machine
I was born and raised only minutes away from the chocolately scent of Cadbury World in Birmingham, England. So it will probably come as no surprise that when I'm not dreaming in Vampires & Angels, I dream in chocolate! For the past ten years I have lived in West London with my hubby and two dogs, Alfie - the Pug & Goose - the Chihuahua.
LAILAH is my debut novel, and first launched in serial form to wattpad, a readers & writers community. Within just 6months, LAILAH had over a million reads and thousands of comments and votes.
Since then, The Styclar Saga has gone on to pick up a traditional deal with Feiwel & Friends, and LAILAH, the first book in the series is due for release on October 7th 2014.
These days I spend my time balancing my amazing job of writing fantasy fiction, with my other, very important role of Chocolate Connoisseur. I like to multitask and do the two together. It makes me happy.
Win (1) hardback of Lailah by Nikki Kelly (US Only)
a Rafflecopter giveaway